Innovative fintech companies are driving competition and giving consumers, small businesses, and investors lower-cost, easy-to-use, and transparent alternatives to legacy products. 
Improving Financial Wellbeing 
Fintech helps put American consumers at the center of their finances and manage their money responsibly.
Securing High Trust with Users
Trust is high among fintech users. Consumers who know and use fintech brands like and trust them. As awareness of fintech brands increases, trust is on the rise too, particularly among the people using fintech services. 
Fintech is the New Normal
Fintech reached a mass adoption moment because consumers prefer speed, convenience, and transparency. Across demographics and income groups, consumers are turning to fintech companies as a better alternative to manage their money.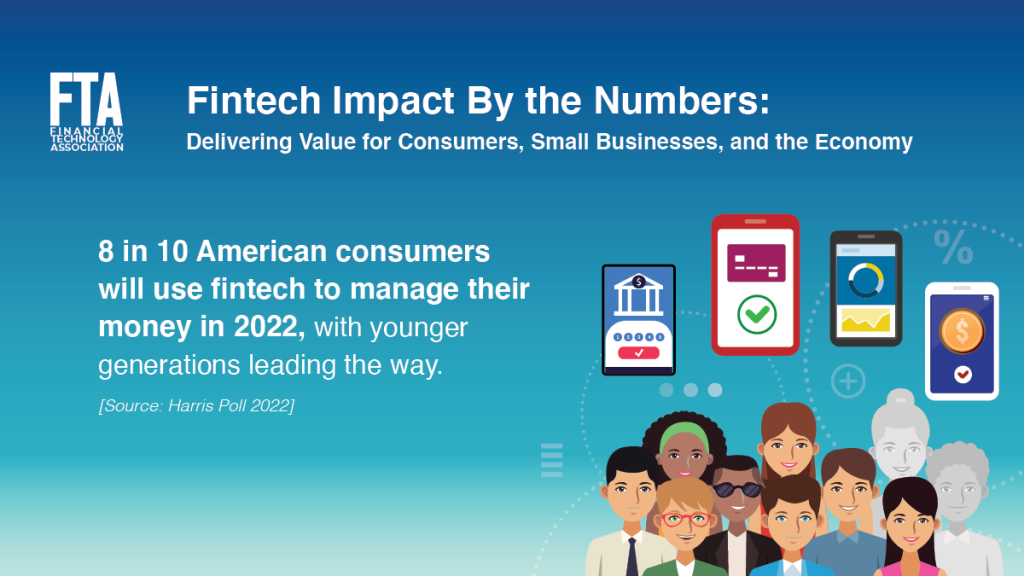 Making Money Management Easier 
Consumers use fintech to access preferred financial services like a favorite budgeting app, payment method, investing platform, or early access to their earned wages. Fintech helps people save time and money, make better financial decisions, and reduce stress. 
Expanding Access to Financial Services
Fintech drives financial inclusion by giving unbanked and underbanked Americans access to low-cost, easy-to-use financial products that help them avoid revolving debt traps and take control of their financial lives. 
Streamlining Payments 
Payment apps and digital wallets are becoming a critical part of consumers' everyday lives, making it easier and safer to transfer money to friends and family. Transactions that used to be overly complex, manual, or on paper can now happen with the push of a button. 
Helping Everyday Investors Build Wealth
Digital advisory platforms increase access to investment opportunities previously only reserved for the wealthy. They help everyday Americans save for retirement or college, build wealth, and make informed choices about their money. 
Helping Small Businesses Succeed
Small businesses are the engine of the American economy. Yet, many lack access to the capital and financial tools they need to start and grow their businesses. Fintech fills the gaps by extending access to capital and arming small businesses with powerful tools.
Fintech helps small businesses attract new customers on e-commerce sites and give customers access to their preferred payment method to shop online or on the go.