Every year in May, the Small Business Administration recognizes the contributions of America's small businesses during National Small Business Week. Small businesses are the backbone of the economy, employing tens of millions of Americans and supporting local communities everywhere.
This Small Business Week, the Financial Technology Association is spotlighting entrepreneurs turning to financial technology to run their businesses. Small businesses rely on transparent, responsible, and digitally-native financial partners to navigate economic uncertainty, changing technology, and lack of access to capital. From coming up with a brilliant idea to securing capital, reaching customers, managing their money smartly, building equity, and providing employee benefits, digital tools support small businesses every step of the way.
As we celebrate National Small Business Week, check out resources like the Intuit QuickBooks Small Business Index for a snapshot of the health of the small business economy and hear from business owners themselves on the ways fintechs are helping them innovate to meet the needs of their customers.
Making Business Dreams a Reality
Technology companies make it easier for small businesses to get off the ground and expand. Ali Alhashemi grew Uppercutz Barbershop into a Dearborn staple, employing dozens of barbers across three shops and fulfilling his dream of running a successful business that gives back to his community.
Ali credits commerce tools like Square's Payroll, Card on File, Reader, Stand, and Register for making his entrepreneurship dream a reality. "I started cutting hair as a hobby…Now, I want to do everything I can to help this next generation jump into the world and not have to face the hurdles that I had to go through growing up."
Closing the Gap in Access to Capital
Access to capital has traditionally been a barrier to entry, but fintech tools are closing the gap and expanding access to capital for aspiring entrepreneurs. Jamahl and Natalie Grace credit fintechs like Intuit for providing capital to grow Grace+Love, their minority-owned business, so they can focus on making unique, sustainable candles.
"Hearing a lot of no's from banks can be discouraging, but we learned there are a lot of other available funding sources out there. We were able to secure the capital we needed to scale Grace+Love through a QuickBooks Capital loan."
Giving Consumers Secure Online Payments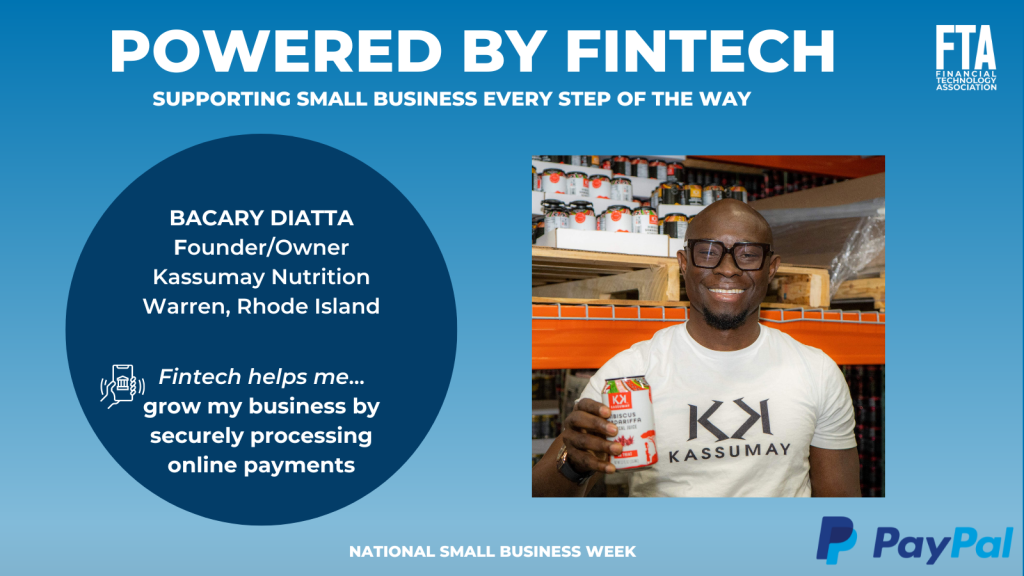 According to Pew Research Center, cash use is declining, with over four in ten Americans turning to other purchase options in a typical week. Fintech payment processing solutions allow small businesses to offer fast, secure, and efficient payment processing services to meet customers where they are.
Bacary Diatta, founder and owner of Kassumay, a minority-owned nutrition business, credits PayPal for helping his business grow. "PayPal is a very important part of my business for security and reliability reasons. It allows us to reduce the risk of fraud and other problems related to online transactions. Without PayPal, our payments and other transactions will certainly be made slower as we'd have to resort to bank transfer or check."
Gaining Peace of Mind from Technology
Overcoming challenges and troubleshooting obstacles will always be part of business ownership, but for wife-and-wife owners of INK MEETS PAPER, Allison and Jamie Nadeau, technology is one less thing they have to worry about. Thanks to fintech, they can have confidence that their sales and payment systems will work, so they can focus on the design and creative projects that make their business stand out.
"Stripe has been integral to our growth over the years," said Jamie Nadeau. "Their early commitment to software developers made a huge difference as we were deciding which processors to work with for our various sales channels. We're continually grateful for the rock-solid nature of their platform. It truly "just works" and that's such a rarity with technology these days."
Streamlining Bill Pay with Digital Tools
Traditional forms of bookkeeping are time-consuming and expensive. Not every business can hire a full-time finance team to manage bill pay, expenses, and accounting. Fintech banking, accounting, and bookkeeping tools save small businesses valuable time, reduce the risk of error and help new ventures thrive.
For Michael and Pamela Thwaite, co-founders of FoodDays, fintech leader Bluevine is a lifeline, helping them streamline bill pay and save time on business checking. "Bluevine's dashboard is clean and simple, with all the features I need…With how much time I save now, I don't know if I could ever go back to a traditional, brick-and-mortar bank."
Supporting Employees with Retirement Benefits
When Angela McManawy and DJ Daugherty founded augustwenty, a world-class software venture, they wanted to attract the top talent in the industry. Offering a competitive retirement package can be cost-prohibitive for many small businesses, so Angela and DJ turned to Betterment at Work, a fintech tool.
"Betterment at Work was incredibly user-friendly, making it an extremely smooth transition that saved the company time and money. We love the way the system integrates with our payroll platform…When we onboard a new employee, they can set up 401(k) contributions immediately, syncing with the payroll platform and saving us time."
Non-paid clients of Betterment. Views may not be representative. See more reviews at the App Store and Google Play Store.